Athletic scope, impeccable conformation, and superb temperaments are the priorities in China Blue's breeding program.
The breeding business being all about bloodlines, it may seem odd that the namesake for Ms. Tamkin's sporthorse breeding endeavor, China Blue Farm, was a Thoroughbred of unknown origins. The avid amateur never knew what the lively gray hunter's lineage was, but nearly 25 years after China Blue entered her life, he remains her inspiration. "He was your classic amateur horse," Priscilla explains. "He was perfect everywhere. On the trails, in the show ring and at the barn."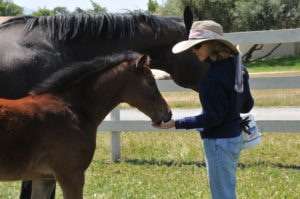 The horses now growing up at China Blue Farm's 100-acre farm in Santa Ynez are not blood relatives of the farm's namesake, but they share his temperament and supreme suitability for amateur and junior riders.
The inherently good temperaments of China Blue's babies are enhanced by kind handling from birth. Mares and foals have their own grooms and youngsters learn to be groomed, have their feet trimmed, load into a trailer and, in short, be perfect little gentleman and young ladies.  And although China Blue's horses are bred and brought along with West Coasters in mind, Priscilla and Nancy confidently assert that these California-breds can make it anywhere.
In addition to raising horses, China Blue also wants to raise awareness about the significance of breeding. Although a few sires are well known on the hunter/jumper circuit, many competitors have no idea the breeding of their own horses, let alone the bloodlines of others. It's hard to compete with the often state-sponsored production and record keeping systems of leading sporthorse breeding countries in Europe.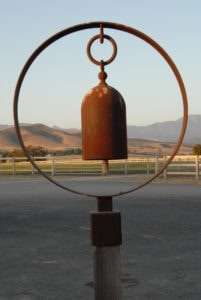 During the long process of becoming a successfully established breeder, Priscilla looks forward to many rewards. The first of which is obvious from the spark in her smile when she speaks of her horses: pride and joy of ownership. As her young stallions and mares make their mark on the circuit, she sees the seeds of breeding awareness planted in the minds of onlookers. "It's great to hear people ask, 'Who's that horse?'"
Although it will take many years to fully gauge China Blue's contributions to the sport, Priscilla and Nancy have taken on their next challenge: producing great ponies. They have their eye on certain sires and are contemplating pairings that will produce ponies with the China Blue hallmarks: great temperaments, athletic ability and sound conformation, and above all, suitability for their riders.
China Blue's Royal Waltz has very successfully represented China Blue Farm both in hand and in the performance ring with many show and year end championships.  Watch for Waltz in the Medium and Green Pony Hunters in 2017.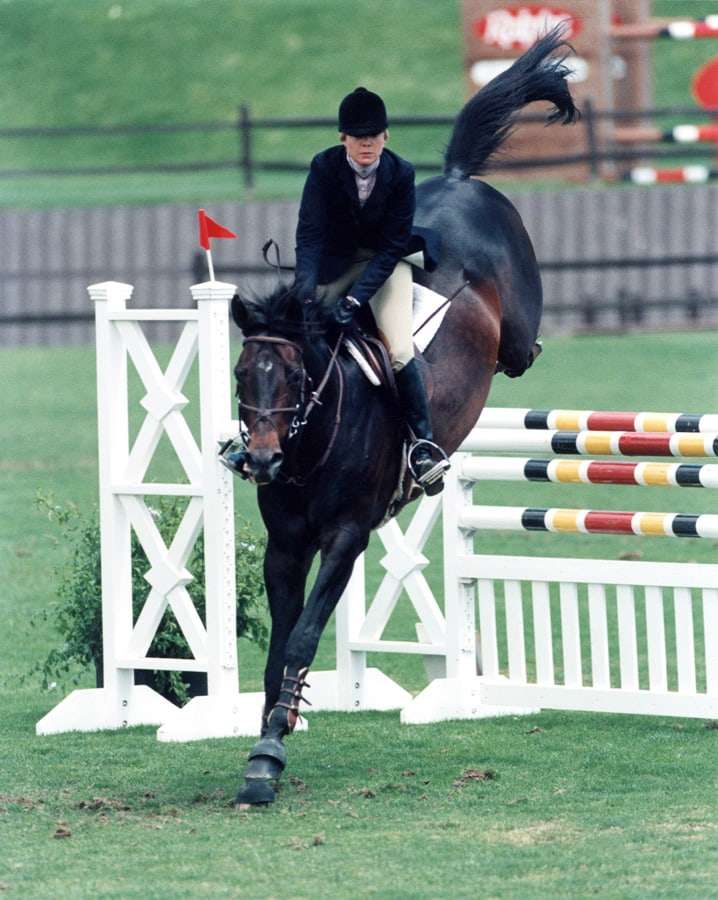 A Little History on China Blue and Baccarat
CBF was started in 1987 but was mostly breeding mares to outside stallions before buying Baccarat in 2000. Baccarat was a frequent visitor to the West Coast's Grand Prix winners circle throughout the early part of this decade. His resume is highlighted by victories in three $50,000 classes.  He is the son of Quidam de Revel, the Selle Francais stallion that has greatly influenced modern show jumping lines and is a main contributor to Holsteiner and Hanoverian bloodlines. Quidam is both producer and performer. He is the leading sire of Grand Prix horses in the world.  He sired 10 horses that contested the 2002 WEG, 48 CSI winners in 2007, and earned his own fourth place individual finish, representing France, at the Barcelona Olympics. The stallion then went on to many international successes with his Dutch rider Thomas Velin.